SHUN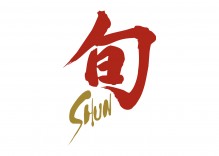 Incredibly sharp edges and unmatched aesthetics set Shun knives apart from every other kitchen knife on the market today. In the great tradition of Seki's sword smiths, every knife is handmade by highly skilled specialists and requires at least 100 handcrafted steps to complete. Every day, the legacy of ancient sword smiths serves as inspiration to the artisans in the Kai factories. Kai's 100-year-old tradition of blade-making excellence, combined with the newest technology and the most advanced materials, makes every Shun knife a functional work of art.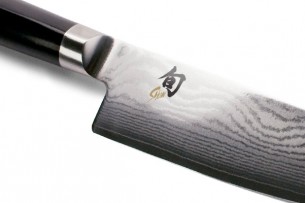 Classic Series
The Shun Classic line features beautiful Damascus-clad blades and D-shaped ebony PakkaWood® handles. Yet behind these handcrafted knives' beauty is function: razor-sharp blades offering top performance. Shun's proprietary high-performance VG-MAX steel, which provides incredible edge retention, is clad with Damascus stainless steel, then ground and bead-blasted, revealing the flowing pattern of the layered steel. The result is a line of knives that are sharp, durable, and corrosion resistant, as well as beautiful to behold. The Shun Classic line also offers you the widest assortment of both traditional culinary blade shapes and cutting-edge designs, so you can always find the right knife for the task.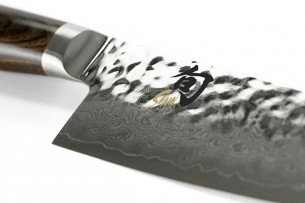 Premier Hammered Series
The beautiful Shun Premier line  calls to mind the hand-forged knives of ancient Japan.While each knife still takes at least 100 handcrafted steps to complete, the materials Shun uses are among the most advanced in the industry. Each blade has a cutting core of Shun's proprietary VG-MAX "super steel" to take and hold a precision edge. The layered Damascus cladding supports the core and provides additional stain resistance. Near the edge of the blade, where the steels meet, an undulating line is formed—similar to the hamon formed when samurai swords are tempered using a traditional clay-baking technique. The hammered tsuchime finish acts like a series of hollow-ground cavities to reduce drag. The handles nestle comfortably in the hand, while the embossed end cap adds balance and beauty.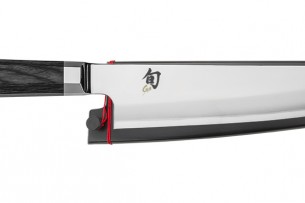 Shun Blue
Internationally renowned for his "nose-to-tail" cooking philosophy, Chef Cosentino chose traditional Japanese blade shapes that are essential for preparing the proteins for which he is so well known, as well as a selection of all-purpose tools every kitchen needs. These exciting knives feature a carbon steel cutting core for a razor-sharp edge and quick re-sharpening. For easier care, the "blue" carbon steel core is sandwiched between two layers of mirror-polished stainless steel. But note that these knives will need additional care to The beautiful grey PakkaWood® handles are a variation on a traditional Japanese design modified to meet the chef's demands for secure and comfortable grip. The Shun Blue line makes this selection of classic Japanese culinary knives available to professionals and avid home cooks in the West.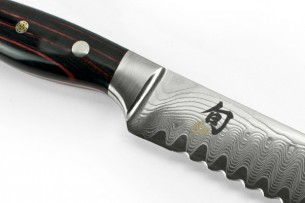 Reserve Series
The Shun Reserve contoured handle lets your hand fit neatly and securely into place as you gently saw back and forth to cut off the perfect slice of bread with nary an unsightly rip or tear. Whether your bread is delicately tender or wonderfully crusty, the Shun Reserve Bread Knife is the perfect choice.
SORA ( Special Order )
Shun Sora provides exceptional handcrafted Shun quality at an amazing price. Sora uses Shun's proprietary Composite Blade technology to bring together a VG10 san mai cutting edge with a Japanese 420J stainless steel upper. This technology puts high-performance material exactly where it's needed—on the edge. The two blade sections are laser cut, then fit together like pieces of a jigsaw puzzle. Braze welding permanently joins them. The attractive wavy pattern at the joint is based on traditional Japanese sword hamon lines. While Sora's blade shapes and handle design are traditional Japanese, the textured PP/TPE polymer blend handle material provides a contemporary look, secure grip and balance, and is easy to maintain.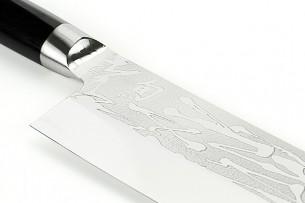 Classic PRO
Because nothing compares to the scalpel-like precision of a single-bevel, the Shun Classic Pro line features single-bevel blades in pure VG10 stainless steel with sharp chisel edges and comfortable D-shaped PakkaWood handles. With their dramatic, graffiti-etched blades, these knives are visually striking as well. The etched design on the blade—different for each blade style—is similar to etching found on custom Japanese knives and used to identify the blade's maker. Blade backs are gently hollow ground, creating a tiny air pocket between blade and food so the knife glides through each task with quick precision. Sharpening on a whetstone is practically effortless.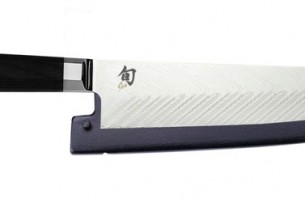 Shun Dual Core Series
About the Shun Dual Core series: Until now, it was considered almost impossible to create layered Damascus from two premium-quality stainless steels. But what was impossible is now a reality—and Shun is proud to bring it to your kitchen. The Shun Dual Core series features a Damascus blade made from two premium-quality, high-carbon stainless steels. Seventy-one alternating micro layers of high carbon, high chromium VG10 and VG2 stainless steels are roll-forged to produce a finer grain in the steel and to give it both strength and beauty. The laminated steel is then hot forged to create the herringbone pattern that allows the layers to alternate along the cutting edge. During normal use, the two steels will wear at different rates creating micro serrations along the edge so that the Dual Core's extremely sharp edge feels sharp longer. Etched laminations in the blade reduce drag, helping food release from the blade and gliding through each cut quickly and easily. Dual Core blades are thin, light, and strong. Traditional Japanese octagon-shaped handles in ebony PakkaWood provide a comfortable and secure grip to complete the look of these beautiful knives.