Introductions
The Happy Cooker opened its doors to Winnipeg in September 1973. We have been proudly serving Winnipeggers now for over 40 years !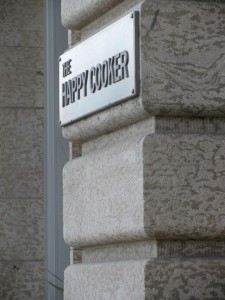 The passage of time has been very exciting indeed and we have seen many changes in the kitchenware industry. Changes in staples such as knives and cookware, electrical and gadgets have been significant over this four decade period.
In 1999 we lost everything in an infamous but destructive fire on Osborne Street. Determined not to let this icon disappear, we rebuilt the business in the old Bank of Montreal Building situated on the corner of Osborne Street and Stradbrook Avenue.
Osborne Village is an eclectic, bustling region in the City of Winnipeg. We have seen many changes in our time here with both businesses and people. 2012 saw Osborne Village voted "The Best Neighbourhood" in Canada and we are very very proud to have been a part of that. Whether you are after a lovely cup of tea or coffee, interested in fashion, maybe a glass of wine or just a stroll through, purchase a kitchen or gift item, you are bound to enjoy the activity in this part of the wonderful City of Winnipeg. Our goal remains to ensure you purchase quality kitchenware items.
Our product offerings include Peugeot of France, Wusthof of Germany, Swiss Diamond of Switzerland, SHUN from Japan, All-Clad from the United States and Sistema from New Zealand just to name a few …
Our updated site will provide you with more product brands and categories under the relevant tabs at the home page. Please explore and enjoy. We promise to deliver our expertise again and again and value your feedback from the experiences in your kitchen. Follow us on Facebook for a continued blog on what is new and exciting at the store.
Thank-you Winnipeg for supporting The Happy Cooker for a whopping 40 year period !! It has been a wonderful ride and we are so happy to have contributed to so many kitchens in this great city of ours.